Offensive Playmaking and Scoring
tracks the following play types: transition, isolation, pick & roll ball handler, pick & roll roll man, post up, spot up, handoff, cut, off screen and put-backs.
Offensive Moves
The First Step
The first step should be quick, explosive and in the direction that you wish to go. Many players' first step goes nowhere or moves them in the opposite direction, and this is typically because of not being in a low and balanced stance.
Finishing At the Rim
Misdirections (e.g. in-and-out fakes) before the gather are useful for getting the defender to change their momentum (and thus out of position).
There are a couple of gathers available: euro step to evade a defender, jump stop for pivoting/shooting options, pro-hop (euro step + jump stop, with a rip of the ball to the opposite side of the body), pro-hop euro step (pro-hop + euro step - jump stop), two-feet takeoff (more balance, power, and control of jump direction esp. to avoid shot blockers ), and over-the-head (getting past a defender while protecting the ball).
Show the ball to the defender to get them out of position (e.g. show ball upward to make the defender jump early), and then extend away (especially to do a reverse layup where you can use the rim to shield the ball). In addition to getting the defender to bite early, swinging the ball provides momentum to get some spin on the ball.
It's important to keep your eyes on the rim.
Use your momentum wisely depending on defender's position. Bump them such that they can't jump and block you. If you're slightly ahead, try slowing down a bit to create this contact. If they're slightly ahead, use a delayed step to get them to move past you.
Finish off your off-foot to throw off the defenders' timing. Especially helps if you can finish with your off-hand (including floaters). Often, you don't need to jump upwards; you need to beat the defender to the glass.
Offensive Tactics and Strategies
Offensive Movement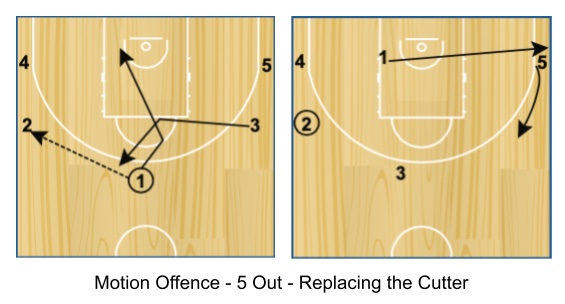 Notice how the movement involve some initial cut into a threatening position, and not just a straight line. In general straight line cuts make sense when your defender has their back to you and therefore can't see you.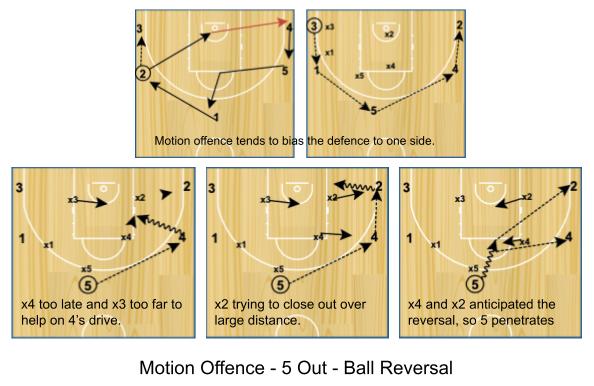 As a dribbler: go at your defender's hip; be a scorer first; get both feet in the paint; jump stop; shot/foot fake to create penetration opportunities.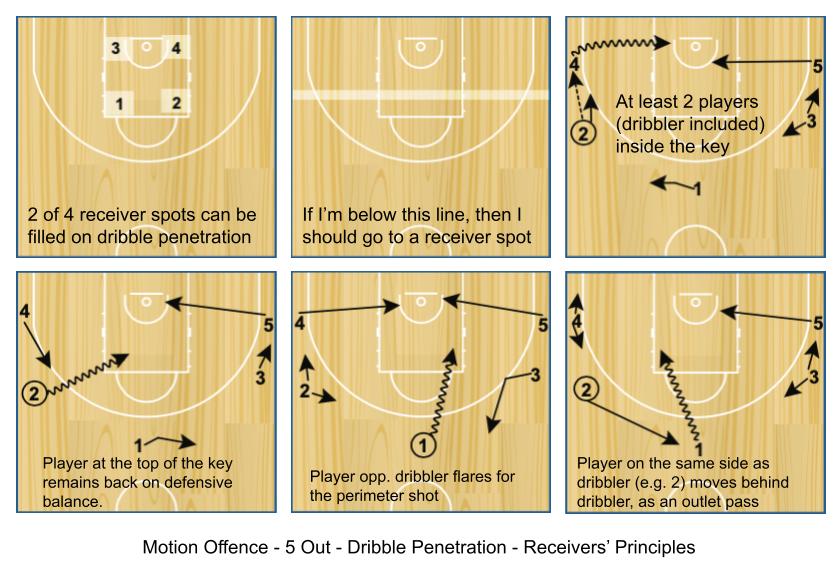 Pick & Roll Ball Handler
Options: penetrate the paint ready to shoot/pass; split between the two defenders; shoot a runner; step-back if on-ball defender goes under the screen.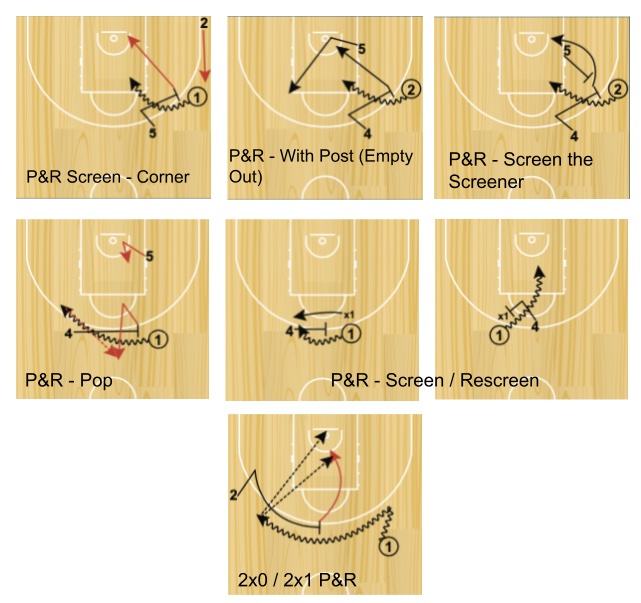 Tip: drive hard to create separation.
Often, a "big" sets the screen for the ball-handling guard.
Defense
Compete every possession. Need to have a care factor.
Physical attributes, e.g. lateral movement.
Know what the opponent wants to do, e.g. do they tend to shoot off a left dribble; where do they [actually] want to go.
Thinking costs you precious half-seconds, that make the difference between a pass interception, and an open look from the opponent. Anticipate. Rondo and LeBron are prime examples of this sort of awareness.
Role Models
NBA 2K probably does a decent job rating the in-season players, given their close association with the NBA itself. Given the badges that I think suit my play-style, which players should I pay attention to?
Badge descriptions obtained from . Badge icons obtained from . Players to watch compiled from by searching for current PGs and SGs.
Finishing
Badges:






Stephen Curry, James Harden, Trae Young, Chris Paul, Damian Lillard, Donovan Mitchell, Devin Booker, Kyrie Irving, Ja Morant, Shai Gilgeous-Alexander, De'Aaron Fox, Fred VanVleet
Shooting







Stephen Curry, Damian Lillard, Matt Thomas, Trae Young, Devin Booker, Bradley Beal, James Harden, C. J. McCollum, Chris Paul, Donovan Mitchell, E'Twaun Moore, Avery Bradley, Fred VanVleet, Frank Ntilikina, Shai Gilgeous-Alexander
Playmaking







Stephen Curry, Damian Lillard, Kyrie Irving, James Harden, Trae Young, Chris Paul, Bradley Beal, Devin Booker, Shai Gilgeous-Alexander
Defense / Rebounding



Stephen Curry, Chris Paul, Jrue Holiday, Marcus Smart, T. J. McConnell, Klay Thompson, Patrick Beverly, Frank Ntilikina
Watching Film
Watching film is a good way of training my mental basketball model. has a couple.
However, it'd be great if I could get the POV of a given player, e.g. how do pro PGs read the offense and create opportunities? Currently, select NBA players mic up for a game, but we're probably a far way off from players donning POV cameras (unless Oculus's partnership with the NBA is looking into this).
Maybe computer vision techniques can provide approximations of player POVs? Some of the building blocks exist, e.g. object detection, player models (albeit in closed-source and trade-secrets of NBA 2K), full game archives , etc. Or maybe Basketball - Synergy Sports has one in the works?
On software approaches: detected foul events and shot events; detected and classified screening patterns. Much of the research is in event detection.
has 300K+ subscribers on YouTube, and I liked his breakdown of Kyrie's finishing. Should be a good resource for distilled film insights.
References