The Dilemma
There are wide productivity variations between good programmers and poor ones. Sackman et. al. found 10:1 ratios. The data showed no correlation between experience and performance.
The major part of the cost of large teams is communication, and system debugging to correct the ill effects of miscommunication.
A small (\(\le 10\)) sharp team, good as it may be, is too slow for really big systems.
The dilemma is thus: for efficiency and conceptual integrity, a few good minds should do design and construction; for large systems to be timely completed, one needs to incorporate a considerable workforce.
Harlan Mills's Proposal: The Surgical Team
Instead of each member cutting away on the problem, one does the cutting, and the others give support.
The surgeon (chief programmer) personally defines the functional and performance specifications, designs the program, codes it, tests it, and writes documentation.
The copilot, somewhat less experienced than the surgeon, shares in the design as a thinker, discussant, and evaluator. They know all the code intimately, and represents the team in discussions of function and interface with other teams.
The administrator handles money, people, space, and machines on behalf of the surgeon, who has the last word. They also interface with the administrative machinery of the rest of the organization.
The editor takes the docs drafted by the surgeon and critics it, rewrites it, cites and references it, and oversees the mechanics of its production.
The administrator and the editor each has a secretary who handles project correspondence and non-product files.
The program clerk maintains the team's technical (machine-readable and human-readable) records in a programming-product library. All computer runs should be visible to all team members, and the artifacts are a team property.
The toolsmith ensures tools (e.g. editors, debuggers) are adequate, as per the surgeon's requests. They often construct specialized utilities, catalogued procedures, macro libraries, and so forth.
The tester devises test cases from functional specs, and devises test data for day-by-day debugging. They also plan testing sequences and set up scaffolding required for component tests.
The language lawyer delights in the intricacies of the programming language (unlike the surgeon who is primarily a system designer), and finds neat and efficient ways to use the language.
How It Works
Of the ten people, seven of them work on the problem, but the system is a product of one mind - or at most two, acting uno animo.
In a team of equal partners, differences of judgment must be talked out or compromised, while in the surgical team, the surgeon settles differences unilaterally.
The specialization of function permits a radically simpler communication pattern: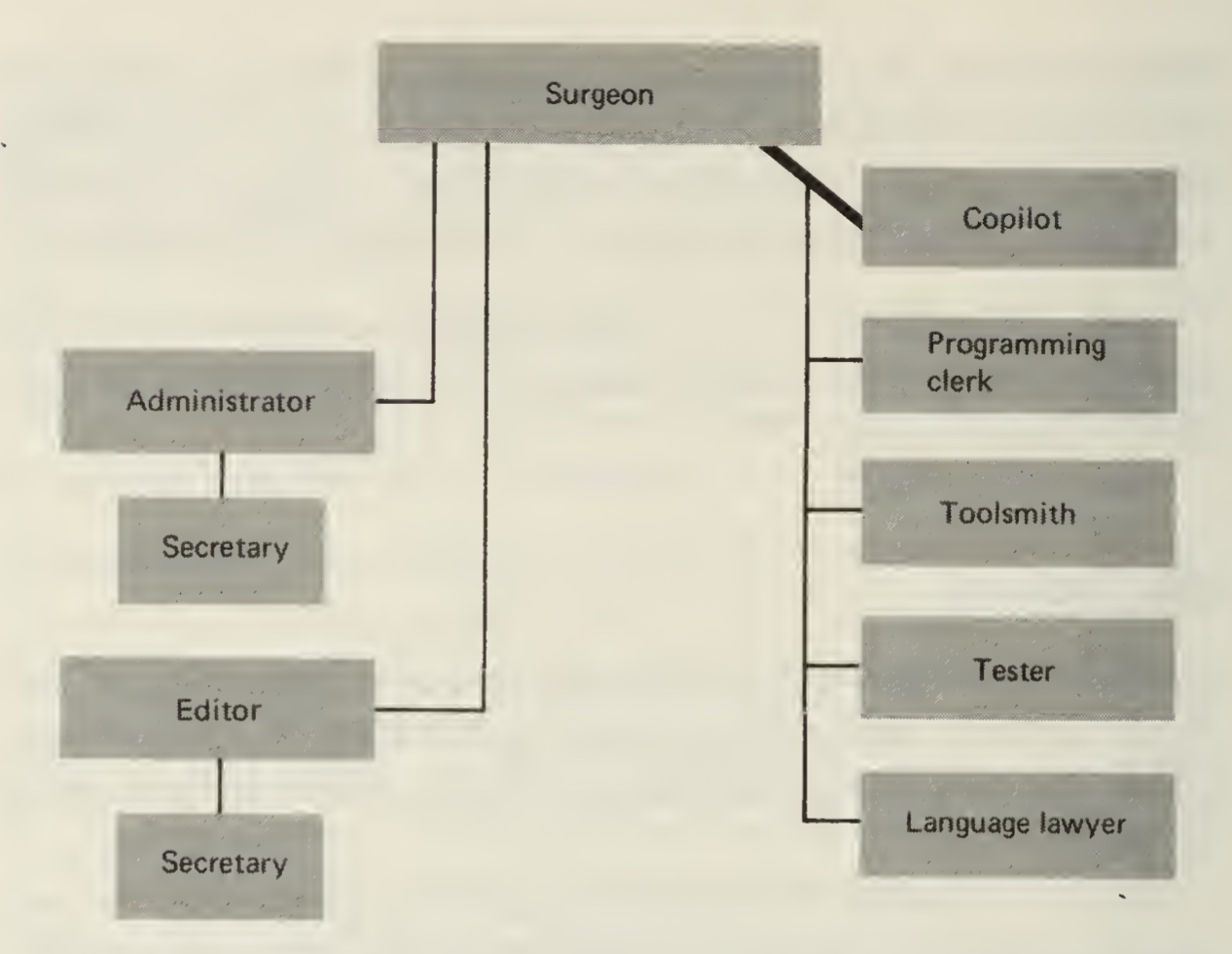 References